Our Chihuahua Home Page
Welcome To Griffin's Chihuahuas Home Page
Hello! Welcome to Griffin's Chihuahuas. We have a deep love for these little dogs. We do not own a kennel, and we do not breed chihuahuas on a large scale. Occasionally, we will have a litter or two, and would love to share our babies with you. Please take some time to view our web site, and fall totally in love with these wonderful little dogs.
Listing Site Updates

******PLEASE VISIT MY NEW SITE*******

http://griffinschihuahuas.com/offmyfrontporch.html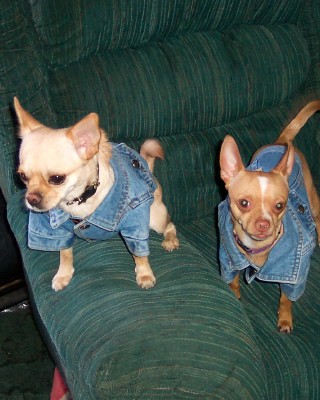 Lucy and Desi Griffin
Lucy and Desi modeling their new jeans jackets
Click on the e-mail chihuahua for contact information...